Venue
The City of Olomouc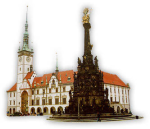 Olomouc is, as the fifth largest, one of the most important cities in the Czech Republic. Due to its rich history dating back to the 10th century AD, the second most significant collection of historical monuments in the country after Prague, time-honoured university, culture and crafts traditions, but above all its central location in Moravia, the eastern part of the country, Olomouc has always been an attractive location for tourists, merchants, and business people.
Olomouc Tourism – exhaustive information about the city for tourists and visitors
Palacky University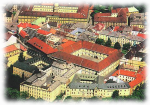 Palacky University is, after Charles University in Prague, the oldest university in the Czech lands. It was re-established in 1946, following with the tradition of the old Olomouc university, which was founded in 1573 and closed in 1860. Nearly 20,000 students are attending seven faculties of the university: The Faculty of Science, The Philosophical Faculty, The Faculty of Medicine, The Faculty of Law, St. Cyril and Methodius Faculty of Theology, The Pedagogical Faculty and The Faculty of Physical Culture.
Conference location
The conference will be held in the Art Centre of Palacky University, the recently renovated Baroque building of the former Jesuit College and one of the oldest parts of the university, which is located in the campus near the historical centre of the city.
The presentations will take place in the Corpus Christi Chapel, the former sacral chapel of the Jesuit College which is, after reconstruction in 2002, now used for concert and educational purposes.